Honduran Fish
Pescado Frito con Tajadas (Honduran Fish and Chips)
The whole fried fish is a famous dish throughout Honduras. Food like this is most popular on the North Coast, the South Coast and near Lake Yojoa.
Red Snapper or smaller fillets, fried whole, come with medium-ripe plantains, firm with a touch of sweetness. Served with splash of lime, generous amounts of chili sauce and cold beer.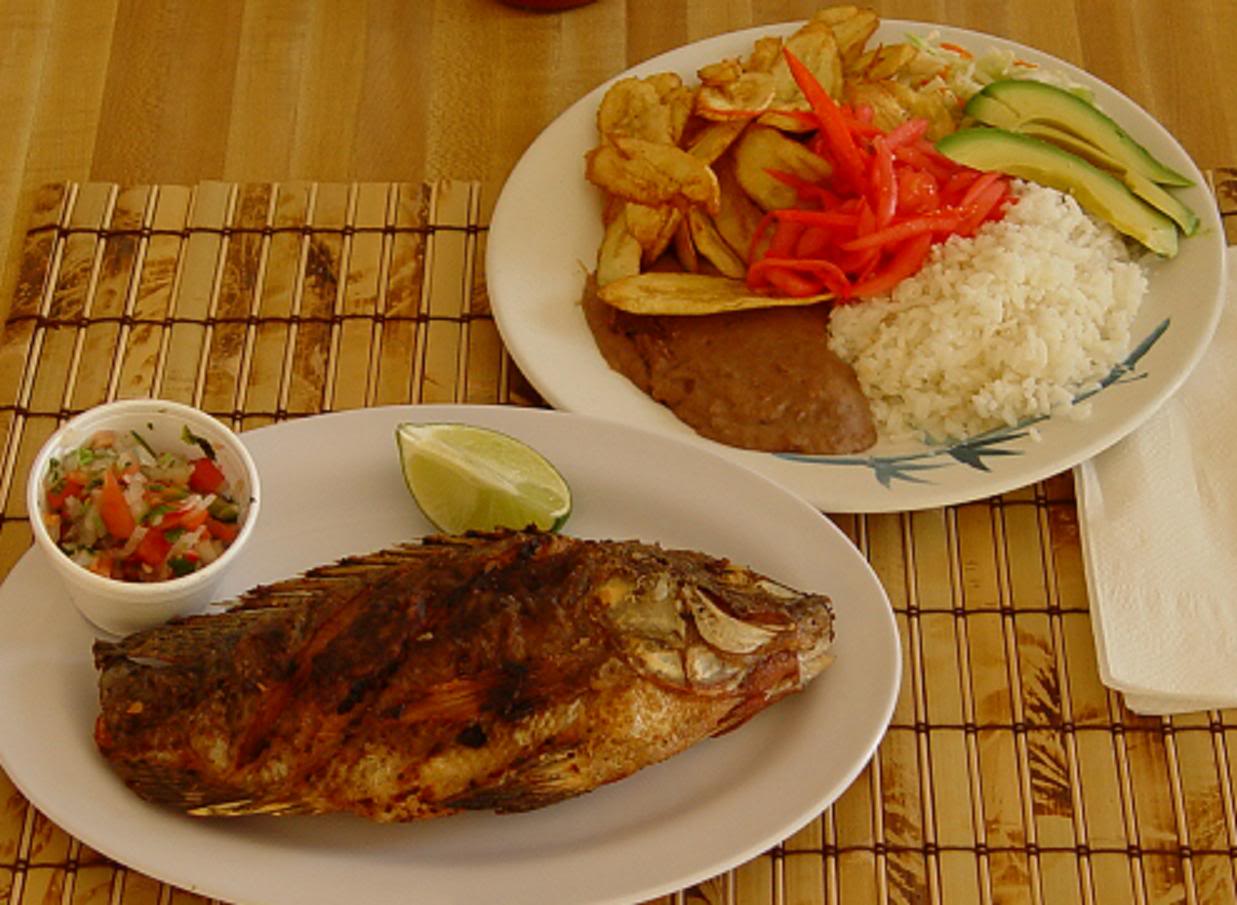 Fried Yojoa Fish
Honduras's infamous example of the freshwater fish is the fried fish from the country's largest lake, the Lago de Yojoa.
Fried Yojoa fish is a one of the most famous Honduran dishes everywhere in the country. The fish is salted and spiced and later deep fried. It is served with pickled red cabbage, pickled onions and deep fried sliced plantains called tajaditas.
Sopa de tortas de Pescado Seco (Dried Fish Cakes Soup)
One of the Honduran dishes is sopa de tortas de pescado seco. Hondurans favor this dry fish cakes in a soup on days when red meat is forbidden. In the country being predominantly Catholic, there are days when red meat is off the menu, for example during Lent. Dried fish soup is one of the traditional Honduran foods and the recipe is passed on for generations.
The fish is soaked overnight, crumbled, mixed with spices, covered in the dough and fried on both sides. Soup is cooked on the fish bones, with spices, veggies and some portion of the dough for 10 minutes and then fishcakes are added. Served with chilli and lime.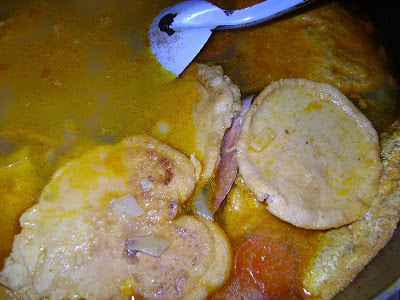 Garifuna-style Sopa De Pescado
The Garifuna are an Afro-Caribbean group who live on some of the most alluring palm-covered beaches in Central America. They originate from two Spanish slave ships wrecked off the coast of St. Vincent in the 1600s. The Garifuna live off the ocean with fish soup being one of their signature dishes.
The soup is cooked on fish heads, shrimp shells and any leftover fish parts for 15 minutes and strained. Vegetables like onions, sweet peppers and spices, yucca and coconut are added and cooked until yucca is tender. The fish is fried or boiled in the stock, placed in a bowl and then the soup is poured over it. Served with slices of lemon.
Sopa de Caracol (Conch Soup)
Sopa de caracol or conch chowder is one of the most characteristic dishes of the Honduran cuisine. It is very popular along the Caribbean coastline of Honduras. This soup was made popular across Latin America as a result of catchy song called "Sopa de Caracol" from Banda Blanca.
Conch (pronounced "konk") is a common name which is used to describe vast number of different species of medium to large sea snails and their shells. Conch meat is used in several Honduran recipes but also the shell is a significant part of Honduran culture, it is usually used as a wind musical instrument.
To prepare Sopa de Caracol, the conch is cooked in the conch's broth and coconut milk, with cilantro, spices, yucca (cassava), and green bananas called guineo verde. Alternative conch soup variety that includes crab, shrimp or fish is Sopa Marinera.
Ceviche
Ceviche is one of the most popular and common recipes in Central America cuisine, specifically in the coastal regions. It is also a traditional Honduran food.
Ceviche recipes and ingredients vary by season and location, but usually include one or more raw seafood items like fish, conch, shrimp, and/or lobster. The seafood is finely chopped into small pieces, as well as onion, tomato and cilantro. The mixture is marinated in lime or lemon juice, which "cooks" the proteins of the fish and kills all bacteria. Ceviche is served with either fresh tortillas, tortilla chips or soda crackers.